body {visibility:hidden;} .social {visibility:hidden;} .print {visibility:visible;}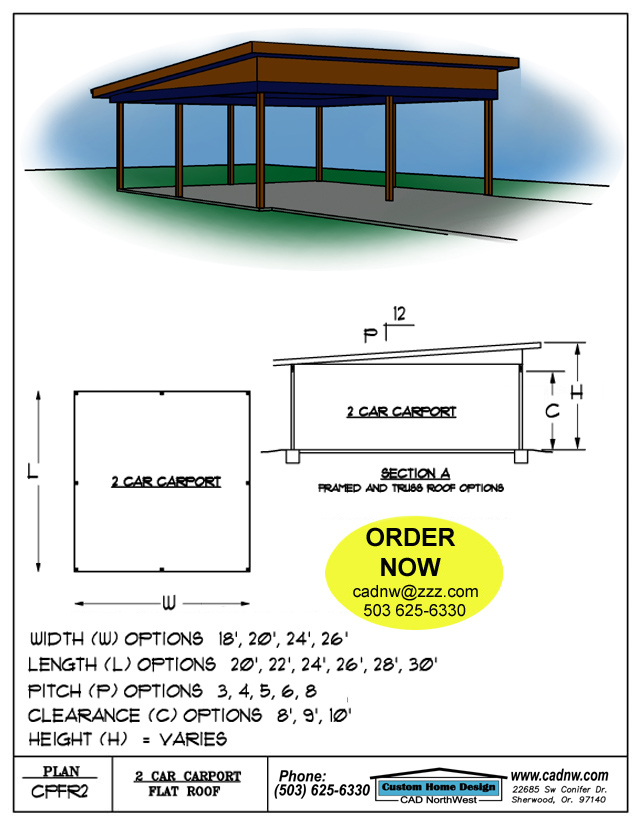 Two Car Flat Roof Carport
This large and effective 2 car flat roof carport will be customized using the variables you choose. Call to order now with your desired width, length, pitch and clearance. Please refer to our sales drawing for these available choices.
These plans include:
Truss roof and/or framed roof options
Elevation drawings
Cross sections
Connection details
Two common types of footing designs
Bracing details
Foundation, floor and roof plans
Materials list
We accept:
Price of plans:
$259
To Order, please call
(503) 625-6330
Monday thru Friday, 8:00 AM to 5:00 PM Pacific Time
Email:
cadnw@zzz.com
Home: http://www.cadnw.com
Cad Northwest
Custom Home Design
22685 SW Conifer Dr
Sherwood OR 97140
Pages and graphics Copyright (C) 2012 CAD Northwest. All rights reserved.
You may view this material through web browsers and related communication programs. All other rights reserved.