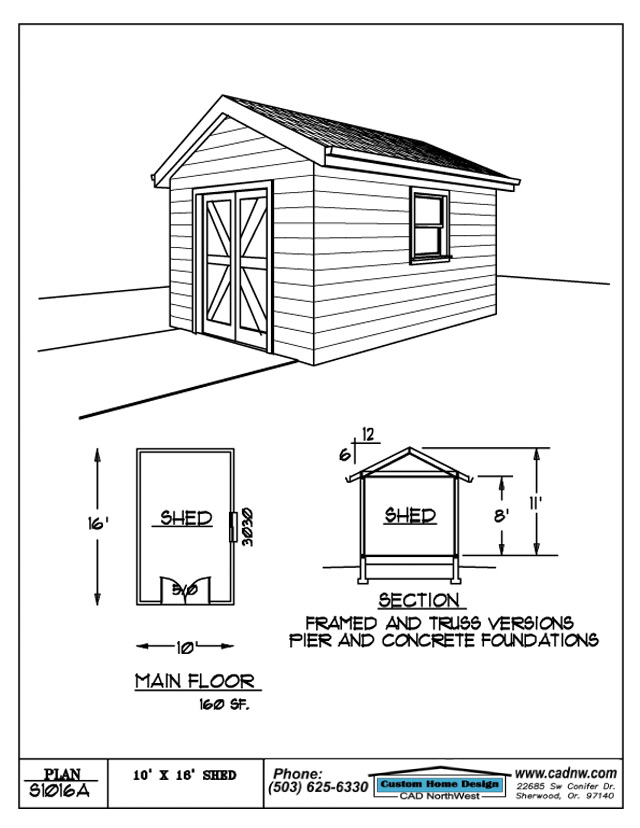 This plan will allow you to build a simple back yard tool, garden shed.
Specifications:
Roof - 6/12 pitch Truss roof or framed roof with Composition roofing (asphalt)
Design Snow Load - - 25#/S.F. live roof load
Ceiling Height - 8'
Size - 10' X 16'
Overall Height - 11'


We do not mail paper packages for shed plans. Instead you receive a PDF file sent to your email address and you print the plans on your own printer. This will save you days of postage time and allows us to provide any shed plan for the low price of $59.00.
Our plans include framing and foundation details.
We make modifications to all shed plans. The cost is determined by the features changed and complexity.
We have a money back guarantee, more



Select Options for this plan
Order By Phone, M-F 8AM-6PM PST:(503) 625-6330

CAD Northwest Custom Home Design
22685 SW Conifer Dr. Sherwood, OR 97140
Phone: (503) 625-6330
Email: Cadnw@zzz.com
Pages and graphics Copyright ©2016 CAD Northwest. All rights reserved. You may view this material through web browsers and other related communication programs. All rights reserved.