Build your shed from our quality Shed Plans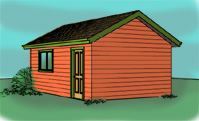 Storage sheds are typically a simple, single-story structure for your backyard or garden and are used for tool storage, hobbies, or as a gardening workshop.
Our shed plans will allow you to build a structure to be used for shelter or storage, or for use as a workshop, either as a separate building or attached to another building as a "lean to".
Tool shed plans vary considerably in the complexity of their construction and their size, from small open-sided metal-roofed structures to large wood-framed sheds with shingled roofs, windows, and electrical outlets.
Most of our garden storage sheds are small structures but we do have larger storage shed plans for use on farms or in industry. When a shed is attached to a permanent building as a lean-to it may be open on the front or sides.
Our shed plans typically have wood floors and pier foundations but do have optional slab floor details. They are designed to the latest IRC code which is accepted in most U.S. states and Canada.
Click the Plan Number or Picture to see more information on each Shed.