All Our Garage Plans with a Gambrel Roof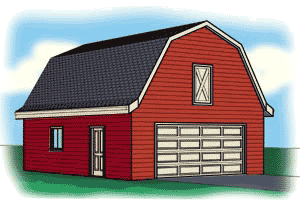 A Gambrel roof has at least two pitch changes. A lower fairly steep roof at each side and an upper less steep roof to form the ridge. A Gambrel roof allows more height across the upper attic floor than an attic with rafters that may sloped down to each side to the floor. A Gambriel roof resembles a barn roof which may compliment an existing building with a similar design.
Click on the individual picture or Garage Details below, To see more information. They are arranged by size of garage.